I belong to a smocking guild…..The Lone Star Smockers. We were able to get a grant to hire an instructor to come to our area of Texas to teach us how to do several hand stitches that some of us had never tried before. It was 3 days of classes learning new smocking stitches, heirloom hand sewing techniques such as Hardanger, drawn thread, where you pull certain threads out of linen and then do hand work to create a beautiful design.  I also learned to do some beading, which has always been one of my interests.
The instructor was Barbara Meger from the Baltimore area. She is such a great teacher and nice person to know. I was honored to have her stay in my home during her visit to north Texas. She is easy to talk to and I enjoyed her instruction.  I hope that other guilds will take advantage of her skills and schedule her for classes in the future.  You won't be disappointed.  I really need to get some of my projects finished!!  Here is her website: www.classiccreationssmocking.com and below are pictures that I took from her website that show the completed projects that we learned how to sew.  I really must get busy!!
This is the smocked silk purse I learned how to make:
We made the bridal bag by drawing out certain threads and learning hand stitches to decorate the spaces left where the threads were removed: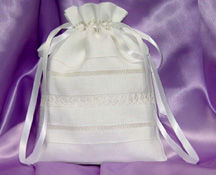 This is an old technique called Hardanger where threads are cut out after stitches are done to hold the weave together.  It was very scary to cut out the "holes" but nothing came unraveled.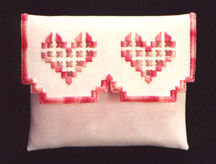 And the last class was learning how to make a honeycomb smocked scissor holder. Barbara had beautifully dyed floss in each kit and we got to choose our colors.
Pictures used here are completed projects from Barbara Meger's website, used by permission