January-2013: Happy New Year everyone!  My husband and I celebrated our 35th wedding anniversary on January 2nd.  There are years for paper, wood, diamonds, etc.  I had no idea what 35 was supposed to be but I decided I wanted to make my husband a "keepsake" type gift.  He always writes me such beautiful letters on our anniversary and I wanted this year's gift to him to be something unique.
I enjoy playing Scrabble and Words with Friends so I got the idea of making a crossword puzzle using Scrabble tiles to spell out the names of our family members.  The first thing I did was write the letters of the alphabet to see how many tiles I needed to spell out all the names.  Then I wrote down my name, my husband's name, our two children, their spouses, and all four grandchildren. (Even though one is 2 months away from being born, he has been named).  Then I made a tally mark as each letter was used to spell a name, then marked through that name.  After all the names were done, I counted each letter to see how many I needed of each.  Here is my worksheet:
I came to the realization that I would probable need to buy 2 sets of Scrabble tiles since each set comes with one letter J and one letter K and I would need two of each, unless I could somehow cross both names to use only one.  But, with Jake needing both, I doubted I could figure that out and it would probably make my head hurt trying.  Somebody needs to create a software program for that!  So, I went on Ebay and found several sellers selling Scrabble tiles.  You can even buy the "Deluxe" mahogany tiles if you want to really splurge!  I decided on the standard wood tiles with black letters and bought two sets so I would have all the letters I needed.
Then comes the "crossword" part.  I only had 10 names to crisscross but it was harder than I thought it would be.  My goal was to keep everything within a 11 X 14 space for the mat and frame that I planned to use.  I used a checked fabric as a guideline to make sure I lined the tiles up straight.  I didn't take a picture of all the attempts but sometimes I would have everything spelled out and then a name that wouldn't fit in anywhere.  Then, I would start over and try again.  I finally decided I should use the longest name and try to build off that.  Here is one attempt that worked out where all the names fit.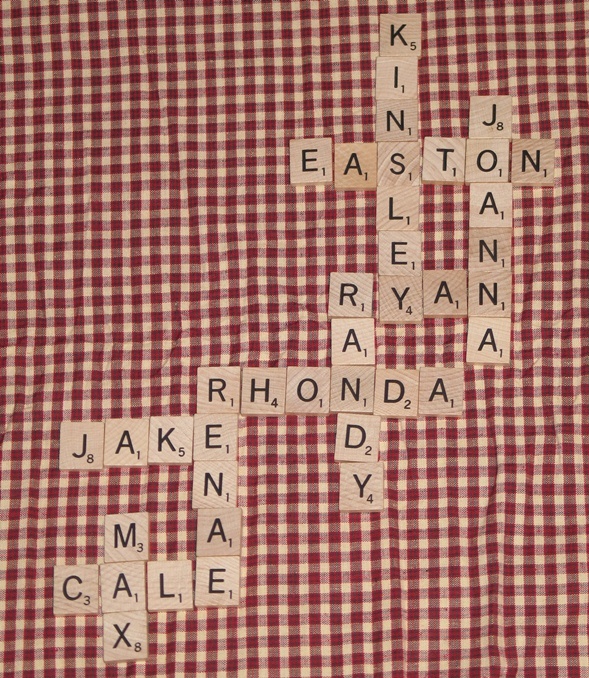 Afraid it would take me forever to figure this out, I took a picture and then made another attempt.  I really preferred to have the picture turned the other way, 14 inches across and 11 inches down.  Finally, I came up with this one where I was able to spell out all the names  wider than tall and also could fit "Family" across the top.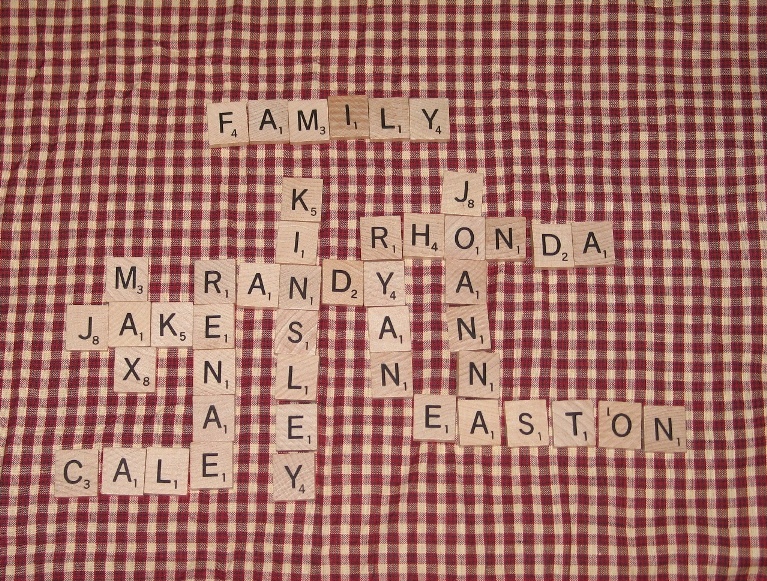 Next I decided on a green and tan plaid for my background fabric.  I cut out a piece that would cover the back cardboard piece and lined it up as straight as possible.  I glued it to the cardboard and let it dry.  Then I positioned the tiles and tried to keep the entire crossword puzzle centered.  Once I played around with moving them over and up until the entire design appeared to be centered on my board, I added the word "Family" and got it centered also.  Then, one by one, I pulled up each tile and placed a drop of glue on the back and pressed it down into the fabric.  I used something called Liquid Fusion which dries fast and clear.  Once all the tiles were in place and lined up with the plaid lines, I let it dry for about 30 minutes.  When I tilted the board up and saw that everything was secure, I placed the frame on top to see how it all looked from the front with the mat.  Here is that picture.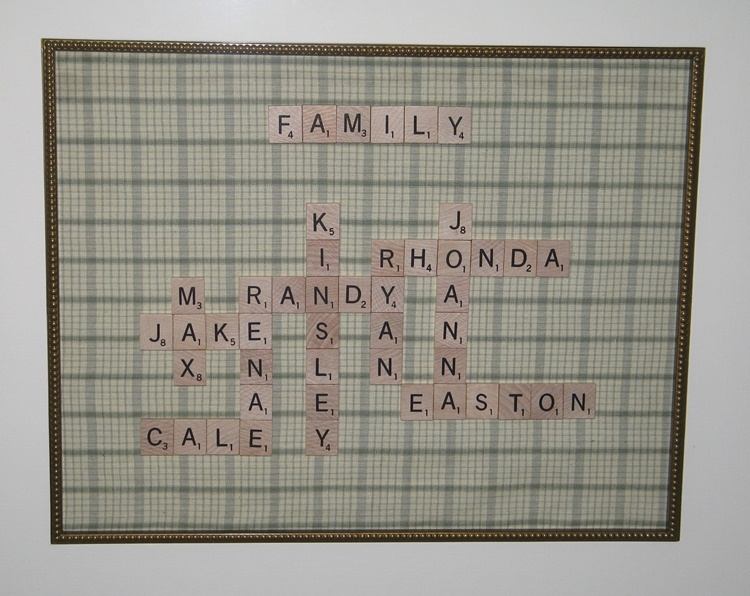 After turning it over, I bent all the metal prongs down on the back of the frame to hold the cardboard in place and then took this final picture.  I showed it first to my kids and they thought it was neat and that dad would like it.  He did.  Now I have to find space on my wall to hang it in just the right spot.  I have lots of leftover tiles so I need to think of the next project to use them in some way.  I'll let you know what I come up with.