January 2011 Lierre means Ivy in French. I just received my Ivy Lasher last month, and this month, I received my Lierre BJD created by Julie Kelly. So, now I have two Ivys. This month's post is about Lierre and also a bit about the artist. I love supporting American doll artists such as Kim Lasher and Julie Kelly.
Julie tells me that she has been in the doll world all her life. She was a sickly kid because she had infected tonsils that didn't come out until she was 18. For years while everyone played, she stayed in bed with her dolls and books. She had tonsilitis at least once a month and these bouts would last for up to 2 weeks.
She took some art classes and a doll restoration course and began restoring antique dolls. She then found her first Volks BJD doll on Ebay and loved her. So she bought her first Volks doll, MSD Maggie.
Julie told me that at that time, she had no mind to make a doll but was working in Sculpey clay just as a hobby and for fun making little things for the family: such as figurines and eggs with scenes carved on them.That year her family bought her 20 pounds of Sculpey Clay. She played around with it and got interested to make her own doll. She was collecting Kaye Wiggs' dolls and thought maybe she could do this.
In the meantime, she was hand making cloth-faced dolls out of felt. She bought wool roving and blended the colors together and wet it with hot water and soap. Then she would throw it over and over until it felts and you have wool-felt fabric, a process she learned on YOUTUBE.  She made her own felt and then made doll heads out of this felt and put in eyes and painted them.
Here are some pictures of her felt dolls that she sent me.
Julie says she always knew she wanted to make dolls. Recently she talked with her dad about it. He has a kiln and she is thinking about making a porcelain BJD, similar to Enchanted Dolls but only in regular BJD mini size.
I want to wish her lots of success in her doll making endeavors.  You can read more about Julie and the story of Lierre on her website: www.jakzjewelz.com
When my package arrived, I was so impressed by the beautiful tapestry bag Lierre traveled in. She was well wrapped in a cocoon of bubble wrap.
I carefully unwrapped her and began trying on wigs.  I also ordered wigs from Julie (off her website) and couldn't wait to see how Lierre would look in each one.  Here are some pictures:
I tried two other wigs on her from my Lasher dolls, Anya and Lotus.  Here is a shot of her wearing Anya's wig and the last ones are my favorites. Those were taken of Lierre wearing Lotus Lasher's black wig.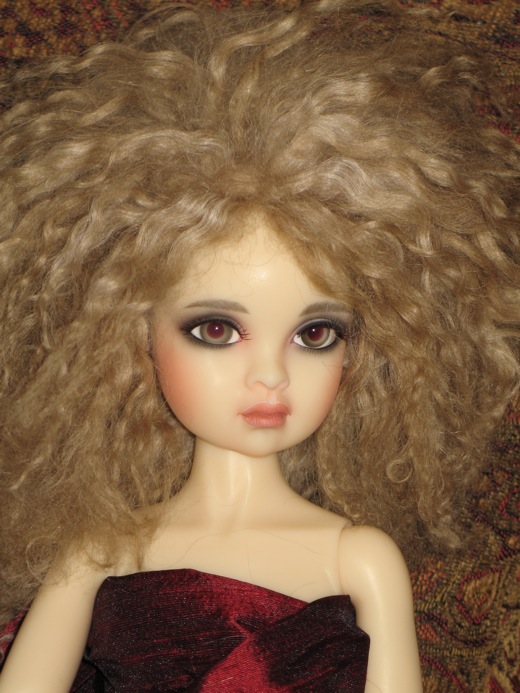 Here are pictures of my Ivy, Lillie, and Lotus Lashers.
Lierre is a 16" resin doll. I have a comparison picture of her next to my Anya Lasher.  Lierre has longer legs and her head is smaller in circumference. I tried on this "Dorothy" outfit that I made for Anya. It fits Lierre but is a little tighter as Lierre has a slightly wider torso. Lierre's feet are larger also. I can't wait to make Lierre a beautiful smocked silk dress with bonnet.  I already have it sketched out.
I hope you enjoyed the post for this month. In a few days I will be at IDEX in Orlando and hope to make next month's post about what I found there. Until then, I hope you are enjoying 2011 so far.