First of all, I was not able to get a post done for November due to my computer crashing. Fortunately all my data was recovered. You never realize how dependent you are on your computer until you don't have it. My PC contained all my email contacts, pictures, embroidery designs, and transcription software. My husband has used Apple computers probably since they were invented. Slowly but surely, I am in the process of migrating over to our old eMac computer. It is so different and I am not a computer whiz so it has been a very frustrating month for me. Enough about that boring stuff!!
If you are new to Himstedt doll collecting you may not have heard about the Farewell Himstedts. When Annette Himstedt closed her manufacturing facility in Patterborn, Germany we thought that was the end of the Himstedt dolls. But, lo and behold, 5 more were made in 2009 and sold exclusively by The Toy Shoppe. To read all about it, the August 2009 Doll Reader Magazine did an article about this with Annette Himstedt and the 5 dolls on the cover. You can buy the magazine at The Toy Shoppe.
These 5 dolls were made as a very limited edition of 43. Most of the other vinyl dolls in the recent previous years (2004, 2005, 2006, 2007, & 2008) were made in editions of 377, 713, and 277. So only 43 of one doll is very limited for an Annette Himstedt modern doll. The names of these 5 dolls are: Ole, Kateri, Ping Mei, Mei Mei, and Antha. Ole is the only boy doll. I called The Toy Shoppe to get on their waiting list for Kateri but never received a call. So, I figured I would never own one of these Farewell Dolls.
On the first page of my website, you can see the doll, Lizzi, who is modeling a dress I made with 4 little girl dolls on the front. Each embroidered doll represents one of the Farewell Edition girls. (Sorry Ole, I had no boy doll in the embroidery package). I call it my Farewell Tribute dress.
Last month, I was able to buy Ping Mei from a fellow collector. You can't imagine how excited I felt to be one of 43 people in the world to own this doll, well 44 if you count the Artist Proof that was also eventually sold. Ping Mei is a fine example of the artistry and talent of Annette Himstedt. I had heard that each of the Farewell Dolls was personally signed by Annette Himstedt, and here is a picture of my Ping Mei with the signature.

Immediately, I began to want to make a wonderful smocked silk dress that would be becoming to such a beautiful doll. I wanted to make her look like a royal princess, much like the outfits that Susan Krey has on her royal dolls, such as Queen Elizabeth. I found some dark red and gold Dupioni silk and smocked gold glass beads into the bodice, hat, and purse. It was a fun creation to work on. Here are a couple of pictures of Ping Mei in the silk dress.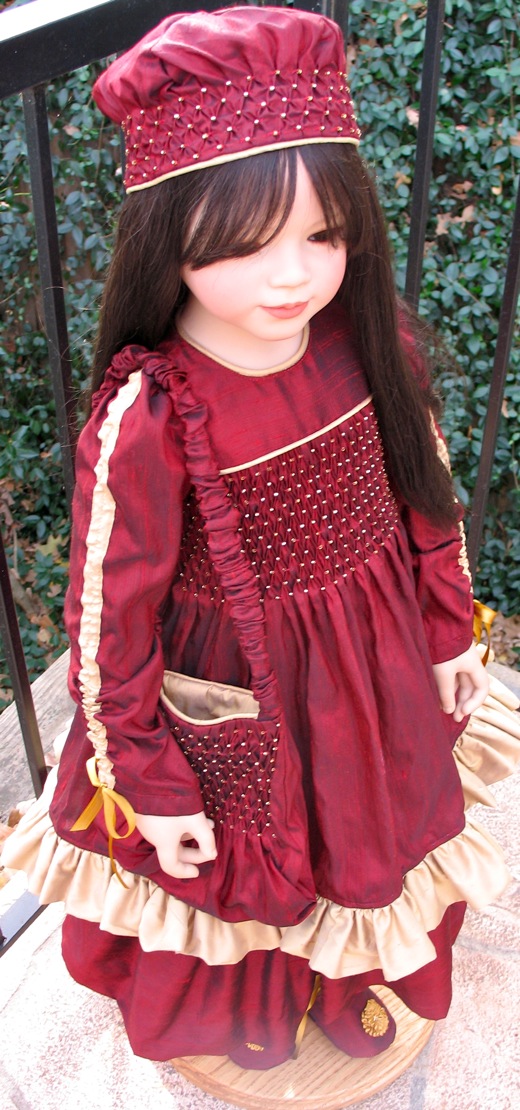 Ping Mei is a doll from China and I have just purchased some Chinese silk with little panda bears. I think she will look wonderful in a traditional style with Mandarin collar. I'm still working on the pattern that I want to use. She is perfect in red and shades of red. Here she is in a smocked Poinsettia dress and hat.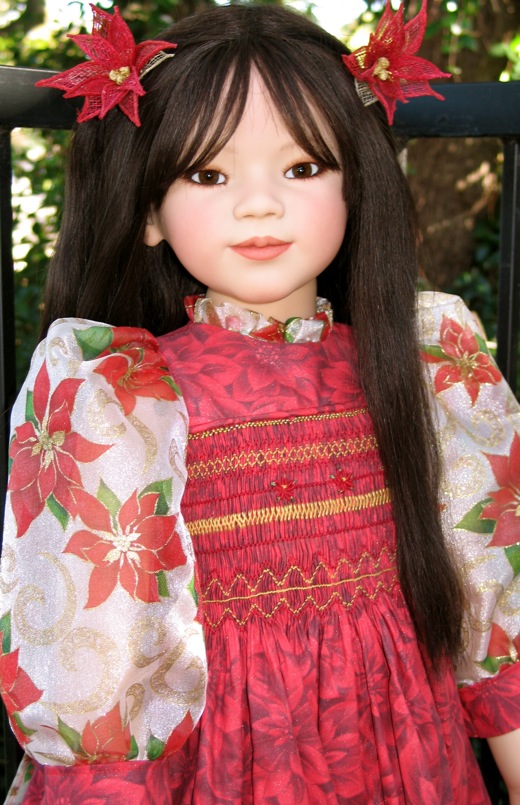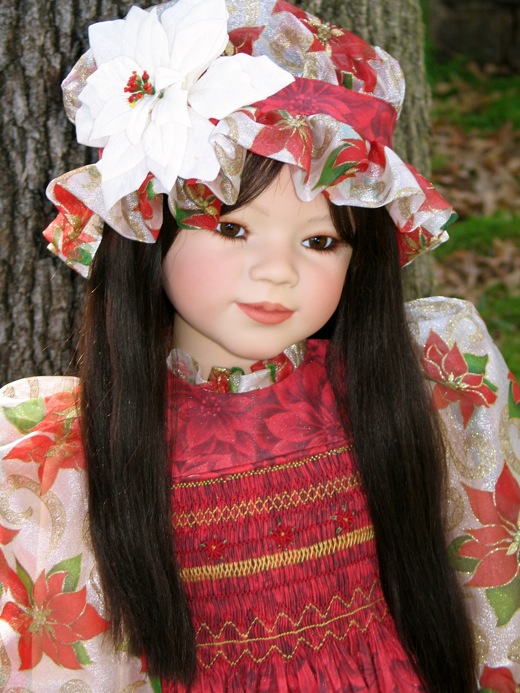 Both of these outfits have sold. I wish I could keep every outfit I made but I wouldn't have the closet space. If all my dolls were dressed, I am afraid I wouldn't be inspired to create more.
As the year draws to an end, I want to thank all of my customers who support my doll collecting habit by buying the outfits I create. As an "empty nester" my house is very full of beautiful dolls that bring me a lot of enjoyment. I wish everyone a very happy and prosperous New Year. Even though there are no new Himstedt dolls to look forward to in 2011, I have still managed to keep collecting the old ones. Who knows which Himstedt doll might just show up at my house in 2011.