Having only made boots for my larger Himstedt dolls, it was quite a challenge to scale my pattern down to fit an 18 inch doll.  I first tried to simply shrink it down on a copier but the proportions weren't right.  I finally ended up doing it the way I originally made my Himstedt doll boot pattern, mostly trial and error using scraps of fabric and tracing them on to cardboard.
My first boot turned out great, except I couldn't get it on the doll!  I never had that problem with my 33 inch dolls.  So, I had to decide where to make an opening.  The back seam was the easiest solution.  I made these boots that can be laced through eyelets.  This boot could also be closed by using narrow Velcro strips that overlap but I like the suede or ribbon laces in the back. The flaps and buttons are non-functional and only for decoration.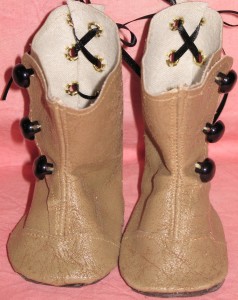 My next attempt was to sew up the back seam and use the front of the boot as the opening. I used the scalloped flap as the closure by sewing Velcro patches to hold the boot shut.  You could also work three buttonholes into each flap and button it down onto the boot side with buttons so that the flap and buttons are not only decorative but functional.
I used all new materials for the making of these boots, except for the bottom soles, which were cut from an old belt.  I found an old purse at a second hand shop that has enough good spots to cut out pieces for some boots.  I plan to try that next.  I found some old belts at a thrift shop that I used as the bottom soles for these boots.
These are not the easiest things I've ever made.  The smaller the scale the more tedious and labor intensive.  If you would like to try my pattern, it is for sale in the "Items for Sale" section.  I have created a downloadable PDF that is 17 pages of step by step instructions with pictures I took as I made these boots.  Don't rush, be patient, take your time, and you too can make boots for your 18 inch doll.  I would love to see how YOUR boots turn out.
Here is a picture of Kirsten (American Girl), Pansy (Daisy Kingdom), and Felicity (American Girl) modeling their new Victorian styled boots.  I was hoping these would fit my Chatty Cathy girls but no, their feet are quite a bit larger.  Unfortunately I don't have any Victorian dresses made to go with the boots.    These are some dresses I made using Daisy Kingdom patterns (now out of print).  One thing I learned:  Don't make the dresses too long or you can't see the boots!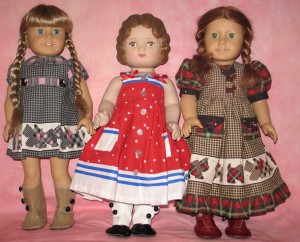 So, I had to roll up the hems on the two longer dresses so the boots show better.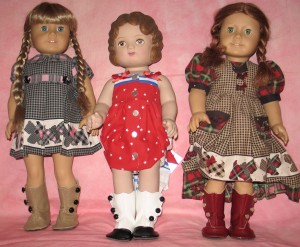 My Kirsten(on the left) was just purchased and was well played with.  She has some issues.  I plan to restring her and restore her so she can stand alone.  I will do a tutorial on how to tighten up those wobbly legs and a few other problems.  She has several ink marks on her vinyl and I have taken pictures of the before pictures and hope to have the after before too long.