March 2011   This month I have been working on a baby quilt for my granddaughter, Kinsley.  She is due any day now. I got these patterns from another Texas lady who makes and sells these kits and patterns. Her business is "Kreations by Karon" and her website is: www.kreationsbykaron.com.  Go check it out. She has some darling things.
I first of all smocked a Bishop styled mini-dress out of brown with white polka dots. When I had the smocking finished, I blocked it on my smocking board, but forgot to take a picture of it. Once I had it completed, I pinned it to a piece of fabric that was left over from the curtains in my granddaughter's room. The pink curtains are tied back with ribbon that is brown with white polka dots, so that is why I chose these fabrics.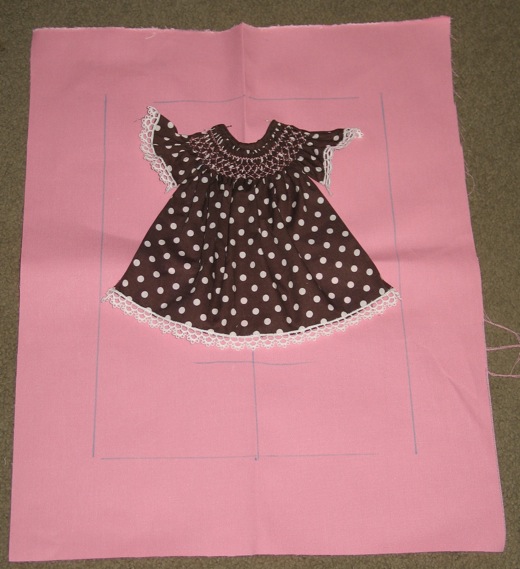 Once I had the mini smocked dress appliqued to the pink background fabric, I used my embroidery machine to stitch out "Kinsley's Room".
After that,  I mounted the finished product into a picture frame that is now hanging on the wall.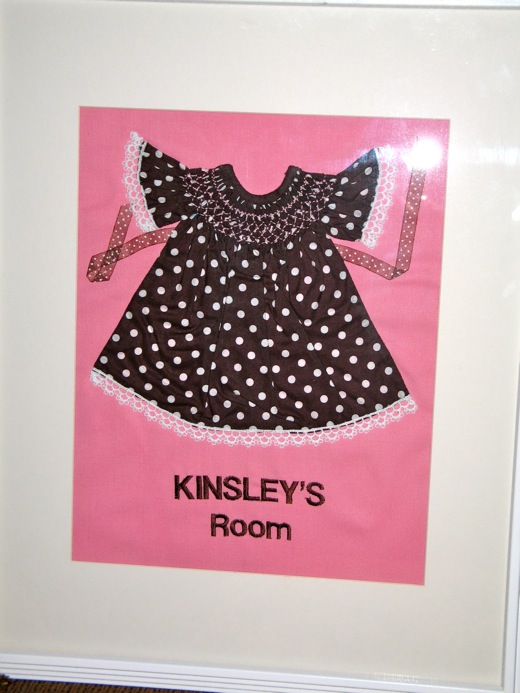 The quilt is getting close to being ready to piece.  I still need to complete a few more blocks. I have 4 finished and one on the smocking board at this writing.  Each dress is made from scraps of fabric that I had left over from several doll dresses that I have made in the past.  If you are a customer, you may recognize one of the fabrics from a dress I made for a doll.
Once I get all the blocks made, they will be pieced together with a pretty pink floral that I plan to use between each block. The center block will have Kinsley's name, and date of birth that will be done with machine embroidery.  I will then baste the top piece to the batting and backside of the quilt and then be ready to hand quilt it. When I get it completely finished I will make another post to show the three baby quilts I have made:  one for each of my grandsons and one for my granddaughter. They are only keepsake quilts and not really meant to be anything but wall hangings. Hopefully, they will someday appreciate all the work and time that their grandmother spent making these keepsakes for them.