Do you remember playing with paper dolls?  My sister closest to my age used to play paper dolls with me, and I think cutting them out or punching them out was part of the fun.  We tried to get every cut as accurate as possible. We would even cut dresses out of the Sears, Pennys, or Wards catalogue and make dolls out of construction paper to wear the dresses we cut out.
Paper dolls are still being made in various forms.  Here are some paper dolls that I bought from the Martha Pullen Company.  They are now out of print, but I bought them for a future granddaughter to play with.
There are several fabrics that have been printed with paper dolls in the fabric. This fabric is one of my favorites, made by Timeless Treasures.  One has a yellow background and the other has a pink background.  I have used this fabric to make a few doll dresses.
This fabric is also pretty cute and features little Asian girls with paper doll outfits.  I made a doll dress out of this fabric also.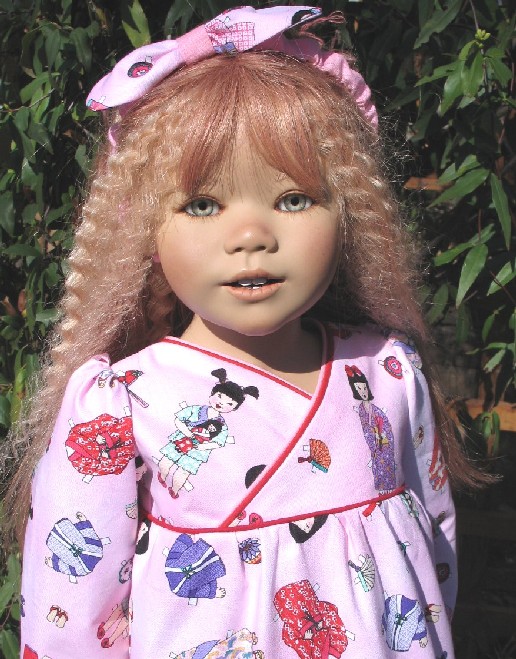 Here is a fabric with paper dolls that is now out of print.  It was printed on a blue background and also a pink one. Here are a couple of doll dresses I made from the blue  and pink backgrounds.
This fabric was designed by Patty Reed, the creator of Daisy Kingdom.  She also has paper dolls from this fabric that you can download and print out yourself.
http://www.pattyreeddesigns.com/dolls/index.htm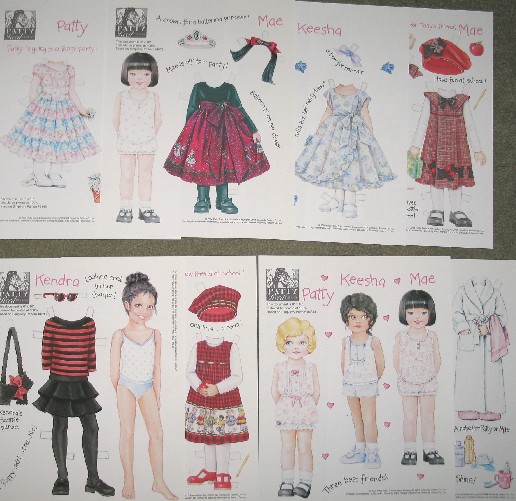 I bought this fabric which features a panel of dolls with doll clothes. You can also buy the fabric print with the clothing with 3 different backgrounds.  This fabric is called "Aunt Lindy's paper Dolls and is still in print.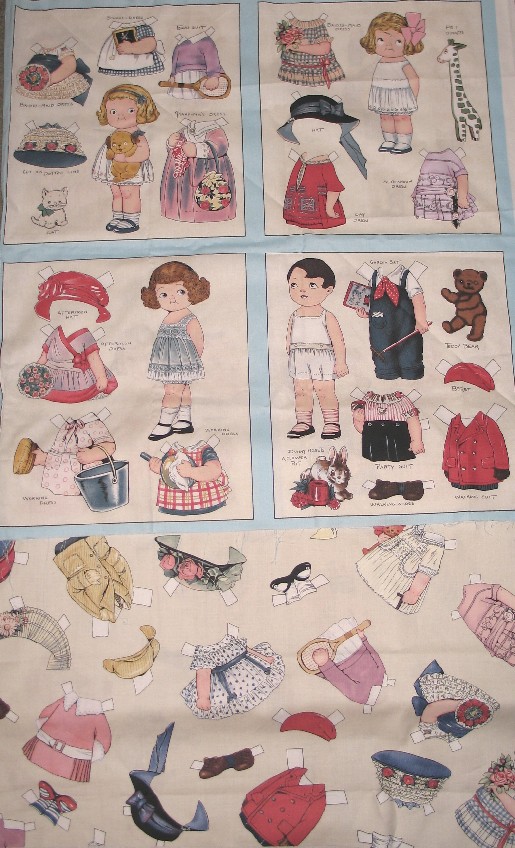 The "New" Paper Dolls are actually not paper at all. They are fabric doll cut outs with fabric clothing. Details and features are embroidered onto the fabric. These outfits are attached with spots of Velcro.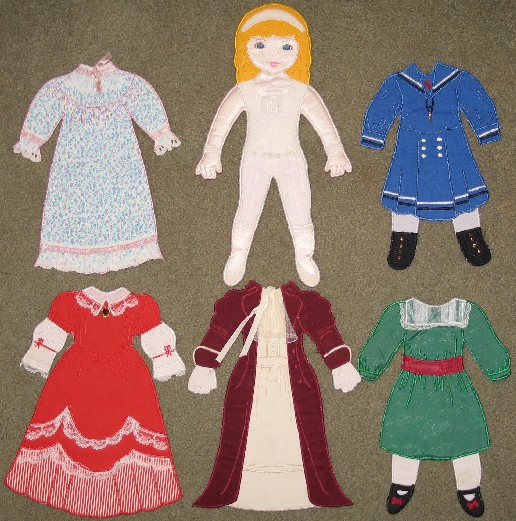 Here is a paper doll appliquéd stitch out that I used in the bodice of a doll dress.
Also, these are some "Paper Dolls" that I just stitched out. This embroidery software features one doll that can be stitched out with different skin tone, hair, eyes, dress, etc. I stitched these out this week and also a few outfits.  They are attached in one of two ways. You can attach them through the holes with decorated brads. Or, for younger kids, you can apply "Tack it Over and Over" which is the same type of adhesive used for "sticky notes". These outfits can be put on and peeled off several times before the adhesive is used up, and then more can be applied.
I hope you have enjoyed this post about Paper Dolls. In the future I plan to stitch up several sets of clothing for these embroidered paper dolls and sell them either individually or in a package.  My plans are to make a cute carrier that I can embroider a name on for a special little child's gift.